PYA PER CLICK MARKETING (PPC MARKETING)
Pay Per Click ( PPC Marketing )
PPC is the most effective marketing strategy for online business success. We are recognized as the best PPC service provider. Our team of personnel strive relentlessly for brand promotion and work hard for the clients in developing the right traffic for the websites and also helps in achieving their business goals.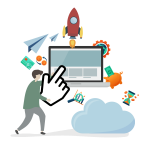 Pay Per Click (PPC) Marketing Services
All of our PPC management clients can expect the following:
Comprehensive keyword research: We ensure you appear for the RIGHT searches by completing thorough keyword research up front, and monitoring your campaign's performance closely throughout.
Effective ad creation: We work with you to produce the most effective ads that get high conversions.
Landing page conversion optimization: If need be, we will create a landing page on your site tailored to receive the visitors that have clicked through from your PPC ads. This allows us the freedom to create a page specifically designed to sell, as opposed to serving the multiple other purposes your site was created for.
Split testing and comparison of ads: We'll set up comparisons to test the effectiveness of different ads. This will allow us to hone our content and presentation.
PPC mini-campaigns: Let us target your state, city, or even neighborhood with ads, or set up a small campaign designed to push one specific product or service.
Remarketing campaigns: Reconnect to past site visitors that have shown interest in your product or service. Using a remarketing campaign can help increase return on ad spend while increasing sales or leads.
Proof of ROI through detailed reporting: There are some excellent data tracking tools built into Google Ads, Bing Ads, and other PPC services. We wade through the data and generate a customized PDF report highlighting the most important information.
Whether you've partnered with a PPC agency before or this is new to you, it's important to consider some things before signing the contract. Chances are, they'll be an expansion of your marketing team and you'll be working with them often to continue improving the campaign performance and adjust the strategy as needed. Here are seven things to consider before hiring your next PPC partner.
Transparency
Goals & expectations
Strategy
Agency vs. client contribution
Experience
Reporting
Pricing structure
This is a tricky question, even with all the knowledge in the world about these two types of web marketing. Here are some steps you can take to decide what might be best for your business.
Step One: Identify Your Primary Campaign Goal
This sounds simple, but I want you to take some time and hone in on an ultra-focused goal. The more focused you can get, the better. Here are some great steps to take to focus your goal:
What do I want from a marketing campaign? Make a list of items.
Which items on the list do I need before I can achieve some of the others? Narrow down to 2 or 3 of the most important items.
Do you see any commonalities between the remaining items? Can you categorize them as brand awareness, more leads, more website visits, more sales, or something similar?
From what you've distilled, grab your one or two primary goals.
Add numbers, if you can. For example, do you need sales to increase by a certain percentage? Do you have a set number of bookings you'd like to schedule per month?
Step Two: Identify Your Time Frame
This one's pretty straight-forward: Take your campaign goal and decide on a time frame. Is this a quarterly goal? Or perhaps you're just launching something new and you need results ASAP? Maybe it's something you're just hoping to achieve within a year? Be specific.
Step Three: Compare the Benefits of PPC vs. SEO
Our Pay Per Click Plan Details